37-Year-Old Illegal Guadalupe Gutierrez-Juarez Is A Dad: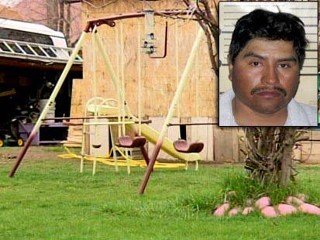 A man has been charged with raping a 10-year-old girl who later gave birth in eastern Idaho.

The girl gave birth less than two weeks ago by caesarian section at Madison Memorial Hospital in Rexburg, Fremont County Sheriff Ralph C. Davis and other authorities said. Officials would not disclose the gender, date of birth or paternity of the baby.

"I wouldn't have believed a 10-year-old could conceive in the first place," Davis said.

A hospital spokeswoman would not discuss the condition of the girl or the baby and would not say whether either was still in the hospital Wednesday.

St. Anthony police began investigating on April 28 after medical officials reported a pregnant child, and Guadalupe Gutierrez-Juarez, 37, of St. Anthony, was arrested the same day, Police Chief James Smith said.

"We had good information from witnesses," Smith said.

In documents that were filed April 29 in 7th District Court and obtained by The Associated Press, Gutierrez-Juarez is charged with one count of rape. He remained in jail with bail set at $250,000 pending a preliminary hearing May 13.

Authorities said Gutierrez-Juarez did not have legal documentation to live in the United States. His home town and nationality were not immediately clear, but police said they had received no complaints about him before investigating the pregnancy.
Remember
our friends from La Raza
who took over a bridge in protest of immigration laws? They stand up for people
like this creep
. Not only did he break the law by illegally entering this country on at least one occasion, he raped a 10-year-old girl. And as if an illegal immigrant raping your daughter isn't enough, she ended up getting pregnant. If they don't throw the book at this guy, I'll never let them hear the end of it. Hopefully, I can count on your help...