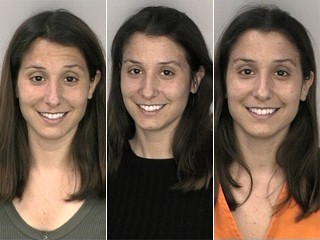 Stephanie Ragusa flashes the same smile in all three mugshots, but there's nothing charming about the middle-school teacher's third arrest in six weeks for alleged sexual encounters with Florida teens.

Ragusa, 29, was arrested Monday in Hillsborough County when investigators saw her leaving a 16-year-old high school student's house just before 1 p.m. Authorities say Ragusa had continued having sex with the teen victim since her initial March 13 arrest for one relationship and her April 15 arrest for another.

Ragusa was in court today to face two felony counts of unlawful sexual activity with a minor. A judge ruled that she will be held without bond as the court begins to wade through more than 10 charges related to alleged sexual activity with minors.
This woman has
lost all self control
. Either that or she is really enjoying the attention. The fact that she's smiling in all three booking photos makes me think it's the latter.